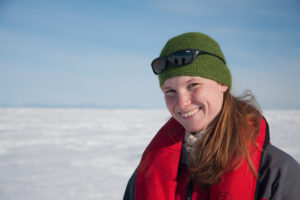 For quite some time now, Kjersti (et al) has been working hard to set up a regional, high-resolution model of the southern Weddell Sea  – and yesterday the results from all her work were finally published in GRL!
Below Kjersti summarizes her work:
The Filchner-Ronne Ice shelf comprises 450 000 km2 and is the world's largest ice shelf by volume. In contrast to the rapidly increasing melt rates in the Amundsen Sea, the Filchner Ronne melt rates are low, and a cold-shelf-regime dominates in the Weddell Sea. Warm water of open-ocean origin has limited access to the shelf and the cavity beneath the Filchner-Ronne Ice Shelf. But how could this system change in the future? Could global warming lead to a regime shift from cold-to-warm in the Weddell Sea?
We have studied the Weddell Sea system using a regional ocean model with idealized forcing to learn more about the processes that control warm water flow onto the continental shelf and further into the Filchner-Ronne Ice Shelf cavity. Two main factors currently prevent warm water from accessing the Weddell Sea continental shelf. Firstly, the warm water is located deeper than the continental shelf and does not have direct access. Secondly, the Weddell Sea continental shelf is filled with dense water masses that block an inflow of warmer and lighter water. We find that the Weddell Sea system is robust, and we need to make extreme changes to both factors to allow warm water access to the continental shelf.