My lunch out in the sun ended abruptly when my husband (also in home office) casually asked if I'd heard about the new iceberg in the Weddell Sea. If my husband – an economist – has heard about an iceberg it's likely to be big… so I shuffled the rest of my pancake into my mouth and ran in to read!
And yes, a quick google revealed that a huge chunk (4320 km2, to be precise) of the Ronne ice-shelf has broken off! A76, as it is called, is now the largest iceberg floating around Antarctica – but (according to NewScientist) it would not make it onto the top ten of historical giant icebergs.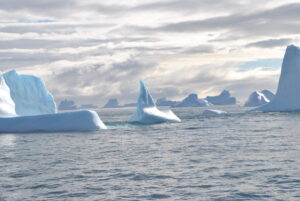 It will be exciting to see where it drifts off to – and how it will influence the circulation on the continental shelf in the southern Weddell Sea. One of its old relatives, A23, that broke off from the neighboring Filchner ice-shelf in 1986, is still (!) stranded on the continental shelf, affecting e.g. the sea-ice distribution in the region.