Det blåser kraftigt och vågorna går höga. Allting gungar och det är svårt att gå – vi vinglar fram i korridorerna och håller oss gott fast i trappräckena på väg ner till matsalen. Men vi har varit länge om bord nu och man är van vid att det rör på sig, så jag är inte sjösjuk.
Kanske har du hört talas om «
the roaring forties
», the «furious fifties» och «the screaming sixties»?  Det är där vi är nu… På de här breddgraderna (mellan 40 och 60S) blåser det nästan alltid stark vind från väst och det är lite land och bergskejdor i vägen som hindrar luftströmmen.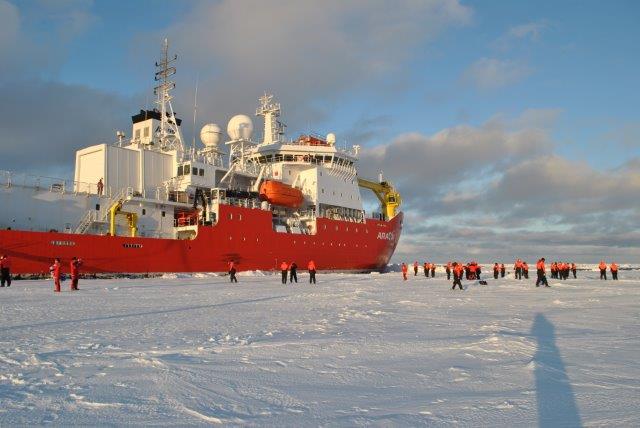 Alla vet att när det blåser så blir det vågor, och att ju mer det blåser ju större blir vågorna. Vågorna är imponerande och de slår mot båten med en enorm kraft – men vinden gör mer än vågor! När vinden blåser över havsytan så «drar» den vattnet i ytan med sig (vi säger att vinden utövar en stress på ytan) men vattnet under, som inte rör på sig, drar åt andra hållet. Om inte jorden hade snurrat, så hade det varit enkelt: då hade vattnet flyttat sig med vinden. Hastigheten hade minskat ju längre ned i djupet vi såg, men allt vatten hade gått i samma riktning. Men jorden snurrar – ett varv varje dag – och då blir allt mer komplicerat… resultatet blir faktiskt att vattnet inte flyttar sig med vinden, utan på tvärs av den!
Det «varma» vattenmassan som strömmar in under shelfisen i Amundsenhavet kallar vi oceanografer  för «Circumpolar Deep Water» (CDW) och är till stor del vatten som för länge sen (kanske tusen år eller så) sjönk ner til botten i Nord Atlanten och så började en långsam resa söderut mot Antarktis. Långt söderut fångas det upp av «västvinddriften (eller den Antarktiska circumpolarströmmen)  som ohindrat strömmar runt, runt, runt den Antarktiska kontinenten.  Vindmönstret  här gör att ytvattnet i söder strömmar åt söder medan det i norr strömmar åt norr – så i mitten blir det inget ytvatten kvar! Det fylls då på underifrån; vattnet nere i djupet pumpas uppåt och kan till exempel strömma in på den relativt grunda (400-500 m) kontinentalsockeln i Amundsenhavet.
Vi är på väg hemåt och vi har lämnat Antarktis bakom oss – några av forskarna ombord studerar virvlar den Antarktiska curcumpolarströmmen, de har precis börjat med sitt arbete, men jag är färdig. De instrument som skulle ut i vattnet är i vattnet, och de som skulle upp på shelf isen* är på plats. Det är fortfarande två veckor kvar innan vi kan mönstra av och gå i land, och dagarna går långsamt när de inte längre är fyllda med arbete ute på däck. I går kväll var det någon som plockade fram plastmuggar (den tjocka typen, som nästan är som frigolit) och tuschpennor och det blev allmän pysselkväll i matsalen… nu hänger de allihopa i en påse på CTD:n och väntar på att den ska i vattnet igen.  Vad tror du sker då?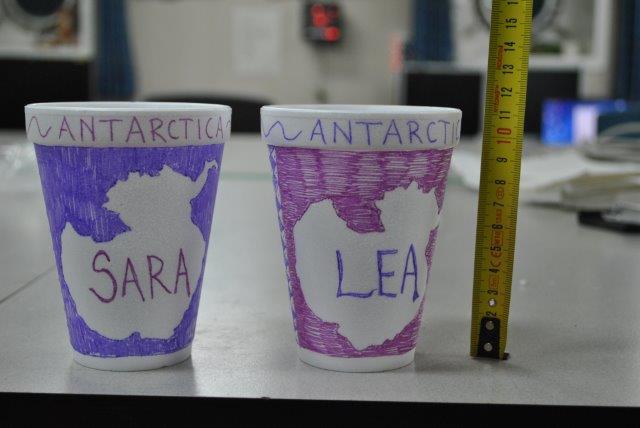 [slr-togglebox title="Gissa innan du klickar här för att se hur kopparna såg ut efter att ha sänkts til 3800 m djup" color="white"]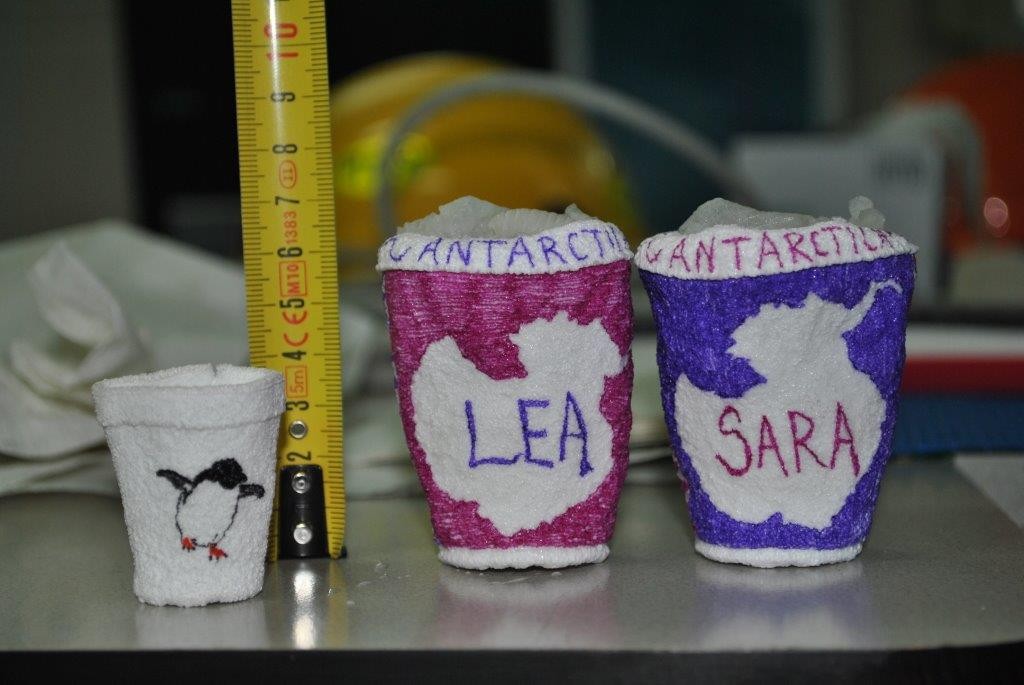 Så här såg muggarna ut när de följt med CTD'n ned på 3800 m djup! Med hur manga procent har volymen på kopparna krympt?
[/slr-togglebox]
---
* Vi har installerat fyra stycken isradar på isen – varannnan timme mäter de hur tjock shelfisen under dem är, och på så sätt får vi reda på hur fort den smälter. När Karen och Povl flög ut med helikoptern för att installera dem (jag höll på med mina riggar och kunde inte följa med) så passade de också på att ta reda på hur mycket vatten som är under isen. Hur man gör det? Enkelt – du behöver bara en (speciell) mikrofon, en metallplatta och en stor slägga. Så slår du allt vad du kan med släggan på metallplattan… och lyssnar ekot ekot! Det första kommer från undersidan av isen, det andra från havsbottnen! Om det första ekot kommer efter 0.24s och det andra efter 0.4667s, hur tjock är då isen? Hur långt är det ner till havsbottnen? Ljudets hastighet i vatten är ca 1500 m/s och i is är den 4000 m/s. För att få säkrare resultat så har man flera mikrofoner på en lång linje. När når det första ekot fram till en mikrofon som står hundra meter bort? När når det andra fram? Tänk på vad Schnell sa!
Oppgaver og øvelser
Norsk
Svenska