I'm still in the Bjørnafjord doing one last section before we head back to Bergen – but I just had a report from Svein Østerhus and Polarstern. They are now just north of the front of the Ronne Ice shelf in the Weddell Sea.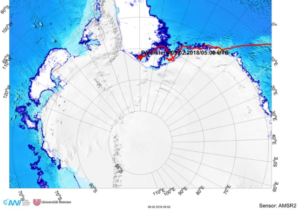 Scientist from British Antarctic Survey are onboard with "Boaty McBoatface" – an unmanned, autonomous (i.e. not attached to a cable) submarine with sensors for just about everything onboard – that they plan to send on a mission beneath the Ronne ice shelf! Truly exciting!!! I'd love to be there…
While being in the vicinity of the ice shelf front, Svein will deploy a couple of temperature recording LoTUS bouys  (see previous post)  within the ice shelf front polynya* for me. These will remain five years at the bottom before surfacing… so be patient!
*a polynya is an area within otherwise ice covered water. Tidal currents and wind typically keep the area just in front of the ice shelf front ice free during summer, and often also during winter.