Amongst the facebook birthday wishes in my inbox I also found this perculiar Message:
Transmit Time: 2018-02-02T13:41:59Z UTC
Iridium Latitude: -77.0799
Iridium Longitude: -33.8234
Data: 2c31362c54454d50313030302c323031372d30312d30312030303a30303a30362c36302c393534302c333630302c2d312e3837312c333233392c332c3630382e33342c3630352e39312c31312e30322c76322e362e382c31363031383b…
which means that at least one of the LoTUS buoys that I deployed last year did what it was told and surfaced today!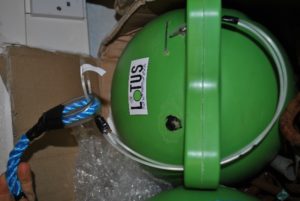 LoTUS stands for "Long Term Underwater Sensing" and it is a bottomlander that you more or less through over the side of the ship. It sinks to the bottom, where it measures the tempearture until it is programmed to let og of its weight and come to the surface. Once at the surface, it transmits the data back to us in the office via satellite. Very nice!
The number in the Message above are as in-understandable to me as they are to you – but hopefully the instrument devellopers from KTH will be able to transform them into understandable data… a one year long temperature record from a location just north of the Filchner Ice Shelf front in the Weddell Sea! There was one more buoy that was programmed to come up today and which didn't yet report home – so keep your finger's crossed!
A collegaue of mine, Svein Østerhus, is currently onboard Polarstern in the Weddell Sea, and he will deploy more of these buoys for me later during the cruise!
Below are a few Pictures from the LoTUS buoy deployment last year: