A new day in the Bjørnafjord with the fjord oceanography students from GFI has begun – and we decided to check in on one of our moorings. The moorings are equipped with an "acoustic release", a unit which we can communicate with using acoustic signals. Normally we only talk to it to tell it to release the anchor and come up to the surface, but you can also use it to find out where the mooring actually is… and that was what was on the schedule this morning.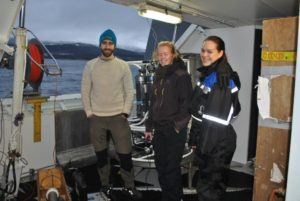 The captain made three stops around the position where we let go of the anchor, and at each position we lowered a transducer down into the water and asked the release to tell us how far away it is*. There was some confusion about what codes to actually use (sorry Kristin for waking you up!), but once we got the right one the release responded promptly!
With three positions and three distances you can draw three circles – and if all is well they ought to cross each other in one location… which is where your mooring is! This time it was well and safe were we thought it was – which is good, because the captain had already reported the position to the navy who will do submarine training here in the weeks to come!
*what actually happens is that the deck unit measures the time it takes between emitting a signal and receiving a response, and knowing the speed of sound in the water you can calculate the distance.