Everyone who has had the opportunity to put on a helicopter survival
suit knows that "easiness-to-get-into" and "comfortable-to-wear" were
not high up on the designer's agenda when they were created… but I've
managed to crawl into  one of them and I'm waiting together with Mia and
Horst to get into the helicopter for today's seal tagging expedition.
It's my third – the first one was not very successful. We had to fly far
to find an ice floe large enough that we would be able to land on it –
and when we finally found it there were no Weddell Seals to be found.
Plenty of seals, but the wrong ones. Karsten, the pilot, flew back and
forth across the ice floe, from one black seal dot to the next – but the
dots were repeatedly identified as "Crab-eaters" by Mia or Horst.
Crab-eaters feed in the surface water, while Weddell Seals dive down to
the bottom to find food. That's why the latter are ideal as
oceanographic helpers  – we put a small sensor hat with an antenna on
their head; every time the seal dives down to feed it collects  a
temperature and salinity profile, and when the seal later rests on the
ice, the data is transmitted back to us via satellite. Since the Weddell
Seals stay in the pack ice all year, we can obtain salinity and
temperature data throughout the winter – when it is impossible for
research ships to reach the area.
Back to today's expedition, which started out better than my first one –
it didn't take long before Mia spotted a Weddell Seal and we were on the
ice. But before we had sorted our gear and changed to our
"work-on-the-ice-clothes", the seal had slipped into the water and there
was nothing to do but to  crawl back into the survival suit and find our
seats in the helicopter. Mia soon caught a second Weddell seal in her
binoculars, and we were down on the ice again – only to realize that it
was a juvenile, too small to be tagged. Horst quickly returned to the
helicopter, clearly disappointed. Mia and I admittedly enjoyed the
encounter with the youngster and lingered with our cameras. Contrary to
the older, very lazy seals, this one was curious and clearly interested
in the strange two-legged red-dressed creatures that walked into his
lonely, white world.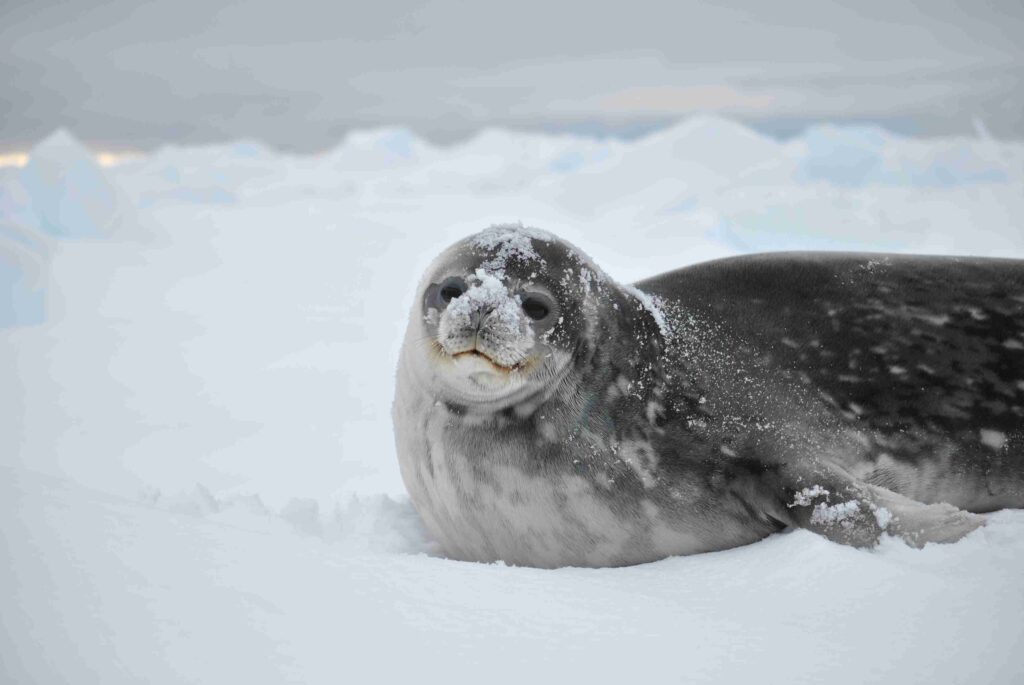 We were soon up in the air again – and found what seemed to be the ideal
location. Three Weddell Seals within what seemed like walking distance.
The helicopter took off – and there we were, all alone with our bags… on
an ice floe in Antarctica! We soon realized that the ideal location was
everything but ideal. The ice ridges and the glittering snow around us
was breathtakingly beautiful – but likewise breathtakingly hard to walk
across. When the closest seal turned out to be a second juvenile (just
as curious and cute as the first one), we soon had to give up. The other
two seals where too far away – if we would even be able to find them
within the maze of ice ridges.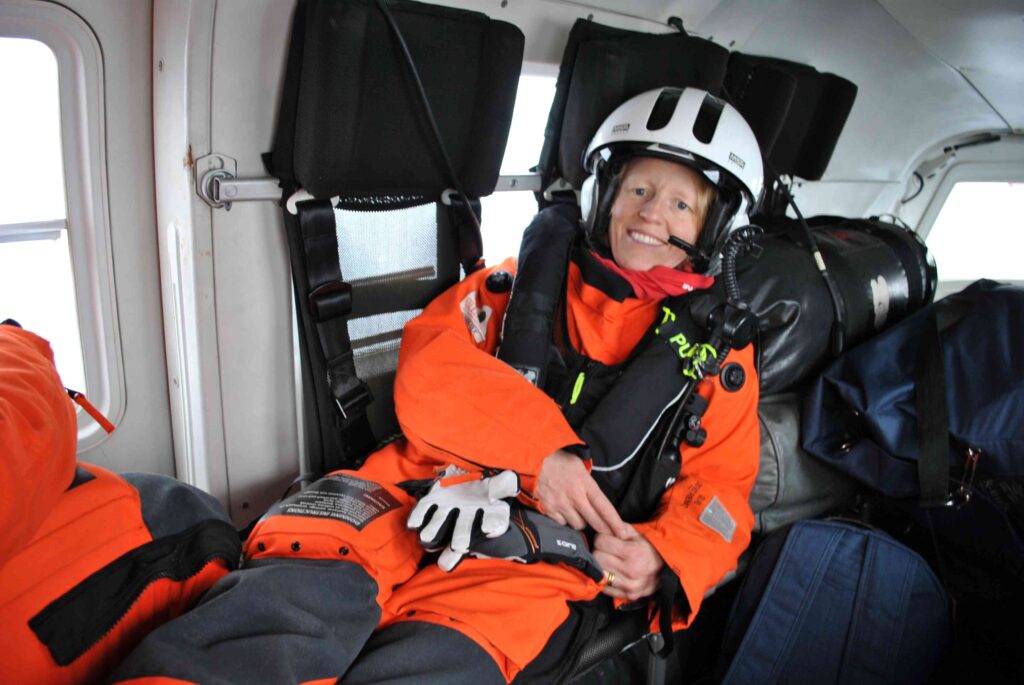 It was three disappointed, tired and very hungry seal taggers that
returned to Polarstern that evening – but we soon cheered up when we
learned that yesterday's seal had started sending data, and that the
weather forecast for tomorrow promised good flight & seal tagging
conditions.