Vår Dundas writes about her first days on board Malik Arctica:
The two weeks of isolation and quarantine are over, and we are on our way southward! It feels good to be moving and getting closer to Antarctica. The first week at the hotel was a challenge – staying indoors on a few square meters with food delivered at the door by people in face masks who run away down the hallway as soon as you open the door is not a dream scenario. But miraculously, with a long parade of Teams meetings, a pile of work, workout challenges, yoga, and long facetime calls, the week passed by faster than expected. We all came out on the other side, mostly unharmed, but for a corona test in the nose, which made us all cry. Soon, we found ourselves at the harbor, next to our home for the next seven weeks, Malik Arctica: a massive (at least in my eyes), red container ship, with a white tower at the end, our living quarters.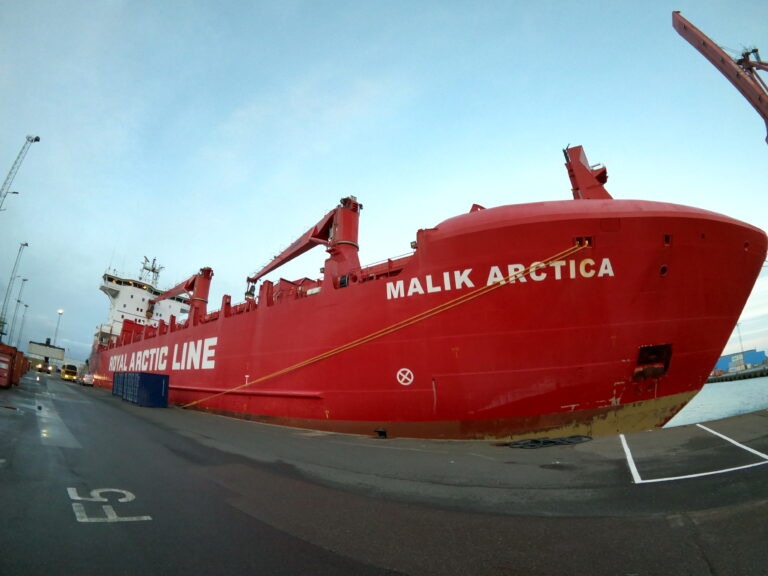 As mentioned in my previous post, the science deck had to be built as this is not a research ship, and this is what we spent much of the onboard quarantine-week doing. Our containers came on board one after the other, and we started lifting and moving and removing all the (quite heavy) boxes to get everything organized and set-up. I got a very pleasant surprise when opening my box to find a Christmas gift from my supervisors! We now have six containers in all: one for mooring and CTD-winches (to lower and pull in cable), an engineer-lab, a bio-lab, a CTD-lab, and two storage containers for instruments and equipment. It is looking quite good now! Let's hope the bad weather we're heading through now doesn't reorganize everything…
Another large part of last week went to getting used to the MSS instrument. MSS is a microstructure probe and is used to measure turbulence in the ocean. Turbulence is very high frequency and small scale motion, which makes it hard to measure. The instrument must be free-falling through the water to eliminate movement, such as drag on the cable. Even so, small movement as vibrations from the ship through the cable might disturb the data the instrument records. We, therefore, need to practice before taking real measurements at the ice shelf front, which is one of our goals.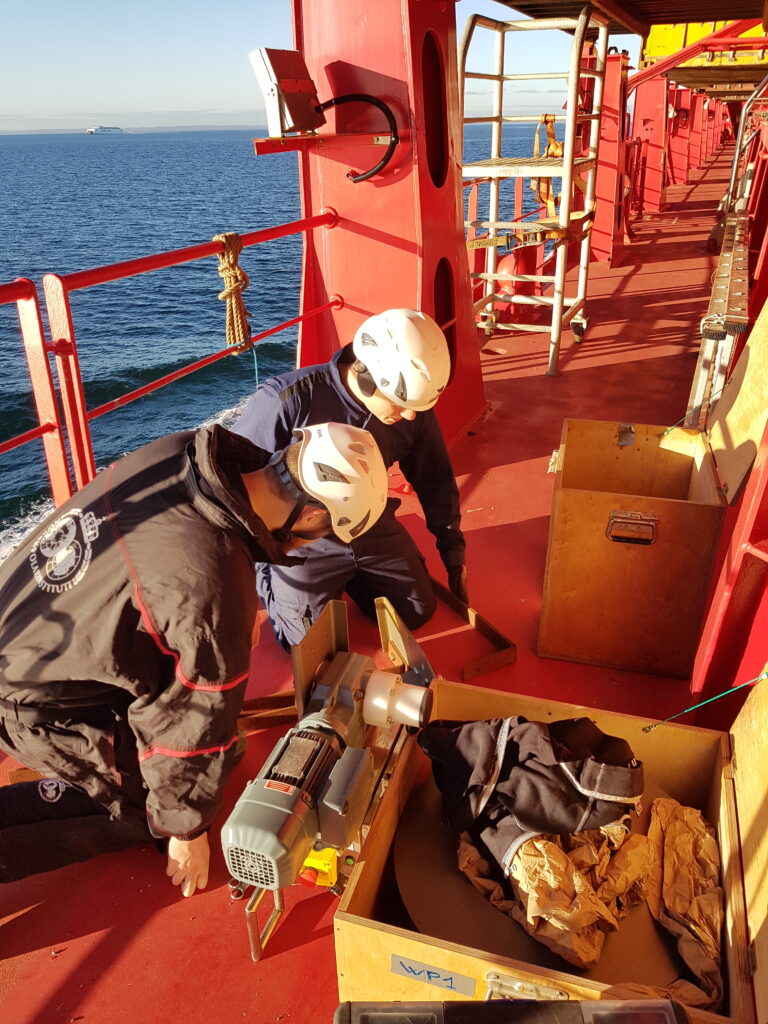 Today we are passing the Bay of Biscay, and the weather is accordingly bad. We are all crossing our fingers that the seasickness won't be too bad, and so far, we're doing good. Apparently, the wind will increase later today, so let's see how we cope… Yesterday we passed through the English channel in clear weather and saw both France and the Cliffs of Dover. And soon, we will be entering warmer waters and approaching summer again. I'm quite excited about some warm weather and sunny skies.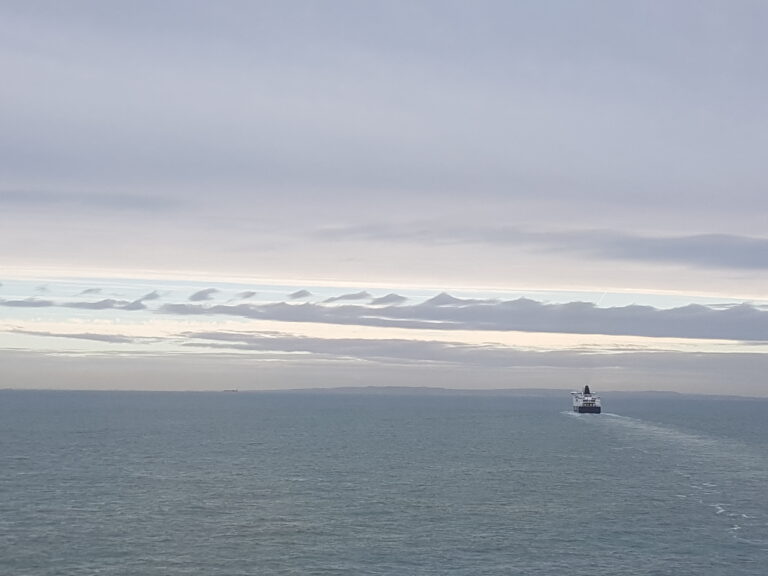 We'll just have to make it through this small storm first.
We've also met the crew and gotten used to the ship. It is relatively new, has nice cabins (we don't even have to share), good food, a gym, and a common room for watching movies and playing games (I think we all might be decent Mario Cart players by the end of the cruise). The stewardess has even already started decorating for Christmas, and they're screening a Danish "julekalender" in the evenings. The other day we got a tour of the engine rooms and cargo hull – it is absolutely impressive. The engine room is a labyrinth of stairs and half-stories, seemingly going on forever, and the cargo hulls are immense. Most of the cargo we are carrying is on deck, and the ship is just taking 100 of 600 possible containers, so the hulls are huge and relatively empty, making for an impressive sight.