Finally, we have reached our study area in Dronning Maud Land. Since we left Punta Arenas 10 days ago, we have been sailing non-stop through the Southern Ocean. You may wonder what we have been doing the whole day on board?
First of all, our instruments and gears were piled up in huge containers and had to be unloaded. Labs had to be prepared and packed into plastic to avoid contamination, bottles had to be sorted and all equipment had to be stored securely to not fly around ones we hit high waves. The group leaders used the transit time to plan our tracks in more detail, decide where to take samples and where to do measurements. Some of us already started taking measurements during the transit!
Otherwise the days are quite similar to home when we work on our computers, just that once in a while someone shouts: Iceberg! Whale! Or, watch that beautiful petrel outside! Of course, we also have to take time to clean our own workspace and do the laundry.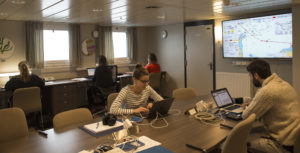 Before we went on board, most people didn't know each other, and now we have to share the cabin with another person. You better hope for someone who is not snoring! However, we already made new friends and spend some time with social activities. On Fridays it's quiz-night, on Saturdays we play twister, every evening after dinner we do HIIT on the Helideck and we watch movies together, play table tennis, basketball etc…. The work at the stations will work much better if we know each other well!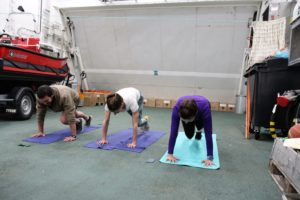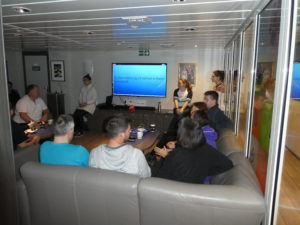 Now, we have finally deployed a Seaglider (Autonomous Underwater Vehicle) and took the first CTD (Conductivity-temperature-depth) section, which was our first station. You will soon hear more about that and other work on board!
BTW, there is also more about our adventure on the UiB webpage!