Guest blog by Karen Assmann
About a day from the sea ice edge a meeting was called. The ship had turned around towards New Zealand, because a crewmember had become seriously ill and the ship's doctor together with medical advisors from Korea had decided that he needed treatment in a hospital. At that point we were 7 days from New Zealand, 7 days from Patagonia and 5 ½ days from McMurdo Station in the Ross Sea, and thus truly in the middle of nowhere.
All preparations for Amundsen Sea science stopped and as the condition of the sick crewmember stabilized, contingency plans for the fact that we were losing 14 days of our time to do field work in the Amundsen Sea started to be made. A day before we reached Lyttelton, SangHoon Lee, the cruise leader of the cruise, got the news from KOPRI that we were only getting two extra days, less than we had hoped for, but understandable, since there are two more cruises after us before the end of the season.
It hadn't really been in the plans, but the stop in Lyttelton became hotly anticipated. Shopping lists (more bread supplies) and plans for the day were made. Since all preparation for science had been stopped, life on board slowed down.
Despite the fact that the condition of the sick crewmember had stabilized a little bit, it was still a relief to see him safely delivered into an ambulance at the quayside in Lyttelton. The rest of us spent a rainy, but very enjoyable day wandering between various cafes, restaurants and shops recharging for the busy second part of the cruise.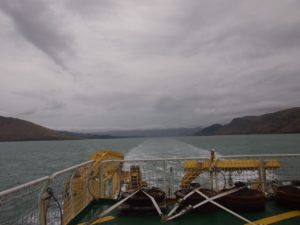 A new plan appeared that still included a large amount of the work in the previous, much longer one – impressive work by SangHoon and TaeWan! The order of things had changed and our moorings at the western side of the Getz Ice Shelf were now top of the list. After establishing that we still had time to be able to deploy the same number of moorings as before, I started to make up new plans with the instruments that we were going to recover from the sites at western Getz. Slowly, but surely preparations started up again and have been gaining momentum.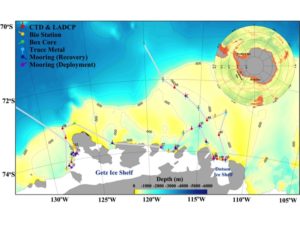 Yesterday we finally got to the sea ice edge and tomorrow our mooring work will start with a few very busy days Ahead.