Until the beginning of the week we had only conducted barotropic experiments. This means that we induced fresh water into fresh water. How boring, you may thing… Well, although these experiments were very interesting, you are probably right because this setup doesn't quite correspond to reality. At the coast of Antarctica, dense water is on one side produced by the growth of sea ice and on the other side origins from deep water that spills over the coast onto the continental shelf. Because the continental shelf slopes down towards the ice shelf, the dense water reaches towards the ice shelf. Our aim is to find out how the water behaves as it reaches the ice shelf front.
To reproduce this dense water flow, we inject salt enriched water into the channel. This relatively dense water approaches the ice shelf front along the left channel slope. To see a clear boundary between the dense and the fresh water, only a density difference of 1 kg/m3 is needed. The density difference increases the velocity of the current a lot, so that the experiments last much shorter. While the barotropic current was mainly blocked by the ice shelf front, the baroclinic current can freely enter the cavity beneath the ice shelf, as the dense water is largely decoupled from the freshwater. Because the fresh water layer above the dense current is barotropic, the previous experiments were of big interest as well to see how the upper layer behaves as the current reaches the ice shelf front.
On the cross section through the channel, the dense water separates clearly from the freshwater. It flows parallel to the slope to its left. Because we built a wall at the end of the channel (see our previous post: https://elindarelius.no/2017/10/20/closing-off-our-channel-at-the-ice-shelf-end-to-avoid-unrealistic-outflow/), the channel fills up quickly with salt water, which we have to evacuate after each experiment.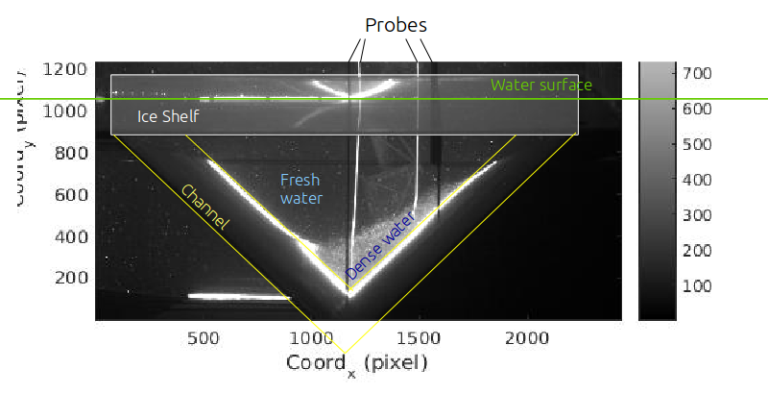 In the photo of the cross section, you can also see 4 probes sticking in the water that we use to measure the density close to the source and close to the ice shelf front. We can then calculate the velocity of the dense current and the mixing between the fresh water and dense water along the channel.